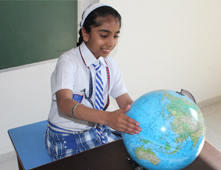 We, at VYAS, recognize each child as an individual being with his/her own special set of strengths and talents. All children learn in their own unique ways, and these differences are based on varied factors such as their readiness to learn, interests and learning profile. The cornerstone of the philosophy of VYAS WORLD SCHOOL is the belief in each and every child. Our academic and the co-curricular programmes are so manifested in our school calendar, so that they offer opportunities to all the children for nurturing their diverse interests.
Inclusive Education is a pairing of philosophy and pedagogy with the aim of ensuring that no child, however different from expectations and general norms, feels alienated and inadequate. Each child must feel confident of himself/herself and should rely on his/her abilities and capacities as well as feel respected and wanted for what he/she is and therefore, feel safe and secure. With this comes learning and developing, taking into account differences in strengths and shortcomings, students of VYAS WORLD SCHOOL will be sensitised to accept and respect differences. This gives all children a chance to grow as individuals and to realise their own potential and reach their goals.
Focus on Each Child
We believe that each child is born with a unique gift, and it is the primary responsibility of educators and parents to discover this gift. Our curriculum acknowledges and celebrates the uniqueness of each child and will help him/her assume ownership of his/her own style and pace of learning.
Listening to the Child
One of our aspirations is to be able to listen to the hundred languages of a child; to understand through his/her words, physical expressions and language, his/her silences and creations; it is only by listening that we can truly educate children.