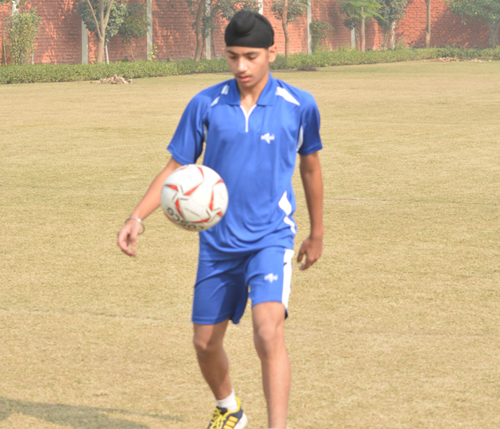 "Sports does not build character, it reveals it".
John Wooden
At VYAS WORLD SCHOOL, we firmly believe that Sports & Games form the most significant indicator of the robust spirit. VYAS values participation and provides students with equal opportunity to develop their skills. The school provides exposure to various sports and students can identify their interests and aptitudes, and chose to develop these talents.
Our goal is to give each child at least one sport for life. Whatever the game they choose, they must play it for life, for we believe that 'We don't stop playing when we grow old, we grow old when we stop playing'. Our aim will be to provide a platform for coaching that could take those interested to excel in sports to the highest level. In near future, the school will set up academies for different sports to aid this objective.
We also believe that sports offer a great entry point to build several life skills like team work and camaraderie, dealing with success and failure, spontaneous decision making, problem solving, will power, appreciation and respect for others. The lessons learnt on playfields are far more enduring than those learnt in classrooms.
The guiding principles of our sporting community are Inclusion, Gender Equality and Collaboration. We will try and build genuine love for sport and an intrinsic drive within our students to do their best, rather than just an obsession with winning. We aim to create an awareness of the crucial importance of regular physical activity, fitness, teamwork and a keen, positive competitive spirit, so that our students can inculcate these qualities that will keep them ahead throughout their life. In our view, nothing equips children better for life than participation in sports.
The programme for the different age/class levels is as follows:
Sports are compulsory for all our students from every class (Pre Nursery-12).
Pre-Nursery to Class 4: Basics of motor development skills/gross movement patterns/fun with sports and fitness.
Classes 5 & 6: Exposure to multiple sports/track & field.
Classes 7 & 8: Identification of proficiency in any particular sport or game.
Classes 9, 10 & 11: Specialized focus on the sport or game of choice.
The school campus has a well-maintained cricket pitch, badminton courts, Squash court, basketball court, volleyball court, tennis court and a skating rink, besides having a fun zone, for the students of primary sections with fun station and variety of swings for fun & physical activities.
We will teach younger children how to train the various systems of the human body (e.g. the Balance system, Power system, Strength system, etc.) using various fun activities like Climbing Wall (for strength and balance) and speed and agility drills (to enhance performance in their chosen sports).
Trained coaches will guide children in team and individual sports like cricket, football, basketball, volleyball, lawn tennis, badminton, table tennis.
We will appoint especially trained coaches for athletics & gymnastics.
Annual Sports Day will applaud spirit and skills on the sports field and healthy interhouse competition will bring out the best of sporting skills among the students.
VYAS will equally lay focus on training Yoga, Martial Arts, Karate and Taekwondo through trained faculties.