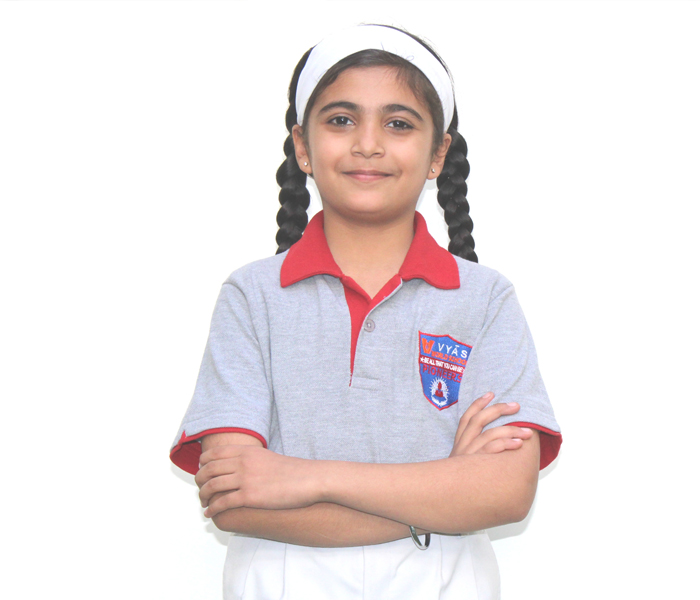 "Education is growth………Education is not a preparation for life; Education is life itself."
VYAS is not an ordinary school. It is a school with a difference. And this difference is what it takes to make your child realise and shine to his/her maximum potential. This is the essence behind our motto, "Be All That You Can Be". VYAS WORLD SCHOOL recognises each child as an individual being with his/her own special set of strengths and talents. The school follows the principle of promoting individuality through value-based education that promotes a global outlook, yet retains intrinsic Indian cultural traditions.
Our activity-based learning programme gives young learners the framework to develop skills in English, Math, Science, Social Studies and languages. The programme helps children learn how to ask difficult questions, explore the options and discover their solutions on their own. Emphasis on Language Arts (reading, writing, speaking and listening) for effective communication is a priority. Teaching and learning is enhanced through our digital classrooms, in-house content, resources and programmes.
Holistic development of each child will also be achieved through specially selected activities that form a part of the school routine. Essential to our teaching-learning process are activities that go beyond the academics of a traditional kind that make children well-rounded and aspire towards purpose and achievement. VYAS WORLD SCHOOL places great emphasis on sports and arts, as well as on different ways of connecting with what students can learn in class.
We will encourage our children to develop self-discipline, and respect and value the achievements, values and beliefs of others. We will help our children to understand themselves and others, and to seek significance and purpose in all their experiences. Our values are reflected in all our policies, and in the attitudes and conduct of our staff. The VYAS philosophy is reflected in the meticulous attention to detail with everything -from the vision of education and design of the school building to the development of curriculum, students and teachers.
To brief in few lines, VYAS is a school where…
…children are encouraged to grow without fear by building relationships of strength and support with their friends and peers.
…the home, school and community environments are closely knit together to help each child feel safe, special and secure.
…teachers do not work alone, but reach out and actively partner with parents, members of the family, and counsellors.
…there is never just one way to learn, only open doors bring learning opportunities that are varied and rich.
…learning never comes to an end and each living moment is an exciting opportunity to learn.
A school that is not just a school but a nurturing community of life-long learners who live and learn together, seeking strength and support, with and from each other.
Welcome to your second home,
VYAS WORLD SCHOOL